We've rounded up ten reasons to become a FlightSiteAgent. It is easy to register with us. All you need to do is: Name your agency, complete your online registration, send us all required documentation, log on and start selling!
10 Reasons to Become a FlightSiteAgent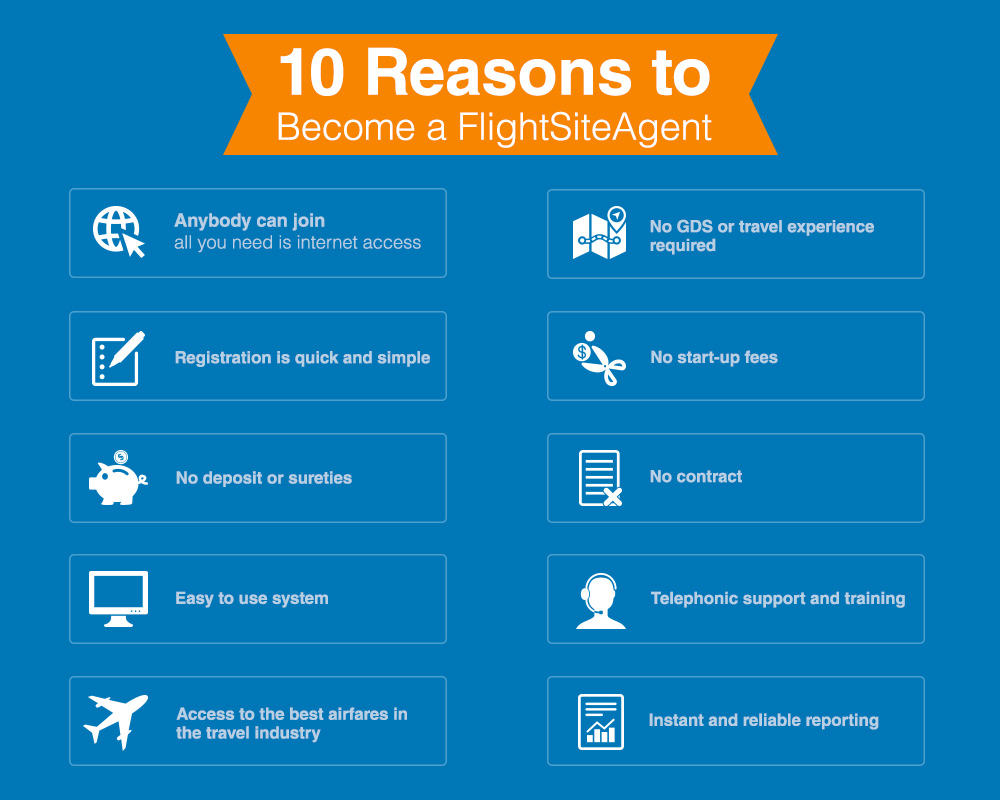 Read more below to see why you should become a FlightSiteAgent!
Anybody can join
Anyone with a passion for people and travel now has access to the tools to start a travel business. Using the latest technology, FlightSiteAgent allows its agents to mark-up flights to sell onto family and friends and still be more competitive than any traditional travel agent.
No GDS or travel experience required
FlightSiteAgent is the first platform of-its-kind in South Africa, making it possible to sell travel without Galileo or Amadeus training.
Registration is quick and easy
All that is required is an agency name, proof of identity, email address and mobile phone number. As soon as an agent has registered, a dedicated account manager will make contact to answer any questions they may have.
No start-up fees
There are no set-up costs and travel agents can create their branded travel agency without incurring any set-up fees.
No deposits or sureties
Agents are able to sell travel without any start-up capital. This is made possible by quoting agent's customers via email or SMS. Tickets are issued once their customers have made payment into any of our four bank accounts.
No contracts
Our agents enjoy the flexibility to use the platform as often or as little as they like. There are no penalties for not using the system.
Agents do however have to sign a simple agreement before you can start using the system, which clarifies the relationship between FlightSiteAgent and themselves and includes the terms and conditions of use.
A practical and easy-to-use travel software platform
With over 3,000 registered agents the response has been phenomenal and a clear indication that FlightSiteAgent is an easy to use booking tool. If you do find yourself struggling, we have account managers available to assist.
Access to the best air fares in the travel industry
FlightSiteAgent is part of the FlightSite Group. With over R1.5billion in annual spend the group negotiates discounted airfares which are 100% passed on to signed-up agents.
Telephonic support and training
FlightSiteAgent provides help every step of the way, from Youtube videos demonstrating all the basics to telephonic training sessions by our account managers. We like to help you make the best use of our system.
Instant and reliable reporting
Free comprehensive reporting is downloadable at the click of a button. This technology allows sub-agents to be set-up, making it possible to add employees to the system.
Try it for yourself and register to start a travel agency today!