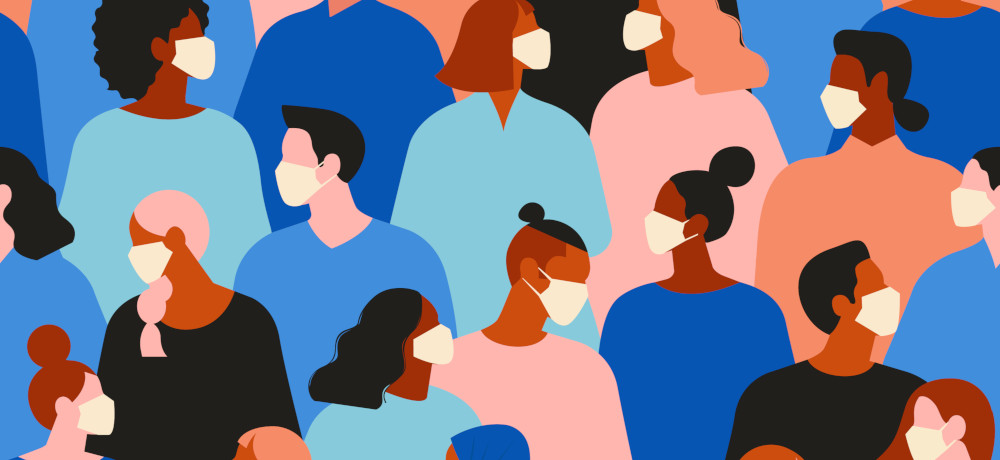 Due to the effect the coronavirus has had on the travel industry, airlines are becoming exceedingly flexible in order to promote new bookings. Below you can find all the latest cancellation policies by airline. These policies are meant to stimulate new bookings despite the fear and perceived risk due to the coronavirus. Airlines tend to have separate policies for flights to Italy, Iran, and China and older bookings likely won't find relief in these policies.
We will endeavour to keep this document up to date, but please confirm everything with the relevant airline. We can't guarantee that it will be up to date at all times. It is also up to airlines to review their policies without notifying us.
Air Mauritius: Passengers with Air Mauritius tickets issued before 30 April 2020, for departures until 30 June 2020, have more flexible booking options. Regardless of the conditions of the original booking, all penalty fees will be waived for passengers who wish to change their travel date. However, passengers may be required to pay a fare difference if the fare applicable on the new date of travel is higher.
Emirates: Any bookings made any time, and till 31 March 2020, now comes with the option to reschedule, adjust travel dates and flights from South Africa without any change fees. There is no limit to the number of changes, as long as tickets are issued before 31 March 2020. Customers can change their booking to any date for travel on the Emirates Network in the same booking class as per re-route, re-booking is permitted but remember to collect difference in fare and or taxes.
Qatar: Passengers that have booked or will book flights for travel up to 30 June 2020 will be offered the flexibility to change their travel plans free of charge by either altering the dates of their booking or exchanging their tickets for a travel voucher valid for one year.
Turkish Airlines: For tickets purchased between 6 March 2020 and 24 March 2020 we will remove the change fee. If you would like to change your ticketed flight, your first change request will be applied free-of-charge. For tickets purchased before 5 March 2020, the change request must be done before 16 March 2020. This is only valid on flights operated by Turkish Airlines until end of 2020. The free change request must be done at least 5 days before original departure date. Domestic flights and flights to/from Ercan do not qualify for a free change. Any difference in airfare from the original ticket to the new ticket must be collected by the agent.
BA/Iberia: Effective 3 March 2020, all new bookings made on BA will include enhanced flexibility. For all fares, all routes and all points of sale, we will waive the normal change fees to allow date changes and the ability to delay travel should the need arise. New bookings from the 3rd of March 2020 for travel on all periods within the system range is included. All routes, all fares, all points of sale is included. Fare difference still applies. Changes can be made right up to departure. Refund fees are not waived. The policy will be in place until midnight on the 16th of March 2020, but they will continue to review and extend this if necessary.
KLM/Air France: The voluntary, free-of-charge, re-booking policy is available for all customers with a valid ticket issued until 31 March from Air France and KLM, for travel from 3 March 2020 until 31 May 2020. This voluntary re-booking policy does not replace specific policies in place for China, Korea, Singapore and Italy.
Qantas: The airline will allow one free date change for all international bookings made between 10 -31 March 2020 for travel commencing on/before 30 June 2020. This waiver can only be applied once per booking and customers will still be liable for any fare difference. The waiver does not apply to refund, cancellation or no-show fees. All changes have to be made at least 3 days prior to departure. Passengers still need to pay for a difference in airfare between the original ticket and the new ticket for the new date.
Cathay Pacific: Their applicable policy depends on the travel destination. For flights to or from Japan, the rebooking/rerouting/refund charge will be waived for all tickets worldwide on or before 6 March 2020 (original ticket issued date) for travel with CX/KA confirmed booking arriving or departing from Japan 6 March – 30 April 2020. They also have waivers in place for other destinations, as seen below in the table. Note that passengers will still have to pay in for any difference in airfare.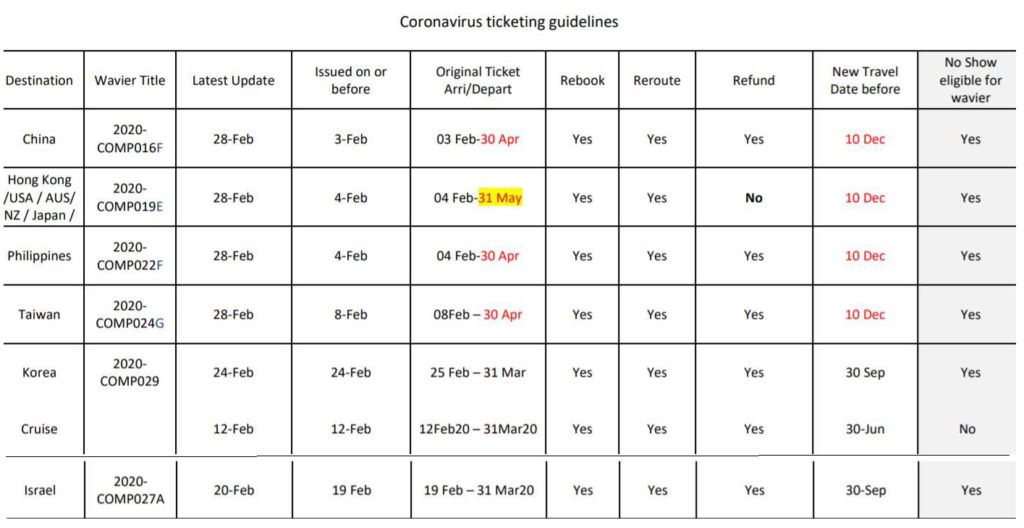 Lufthansa Group: Free of charge re-booking options for Lufthansa Group airlines passengers. The goodwill rule applies to passengers with flights between 5 March and 30 April 2020 which have not been cancelled and whose OS/LH/LX/SN/EN ticket was issued up to and including 5 March 2020. Passengers will still have to pay any difference in airfare between the original ticket and the ticket for the new travel date.
TAP (Air Portugal): The airline has specific rules in place for tickets from/to Italy, Angola and Israel. Free changes are allowed on all other destinations if the change is made at least 21 days prior to the first flight on the original ticket. Re-booking and re-routing allowed for tickets with original travel date until 31 May 2020. Valid for round trip or one way tickets. Fare difference will be charged, as well as any new taxes.
Singapore Airlines: The airline will waive change fees for all SQ and MI tickets issued between 6 and 31 March 2020. This is applicable on all travel itineraries for travel from the 6th of March 2020 and onwards. Flights have to be re-booked for travel to be completed by 31 March 2021. Difference in fare is still payable by the traveller.
Virgin Atlantic: The relaxation of commercial policy is available to customers that have a ticket originally purchased between Wednesday 4 March 2020 and Tuesday 31 March 2020. Tickets can be reissued up until the day before departure (but needs to processed by FlightSiteAgent during office hours). Passengers will still be eligible to pay the difference in airfare.
United Airlines: From 3 through to 31 March 2020, newly purchased tickets will be exempt from change fees. This is is applicable to all fare types, all destinations, all points-of-sale, for all travel up to 12 months from the original issue date. If the new ticket is at a higher fare, the customer only pays the fare difference.
Remember that cancellations and date changes need to be processed by our staff during office hours. Please keep this in mind when providing your client with a timeline for possible changes to their travel plans. This voluntary cancellation policy by Bryte is still the best way to ensure that your client suffers no financial losses if they want to cancel a holiday.