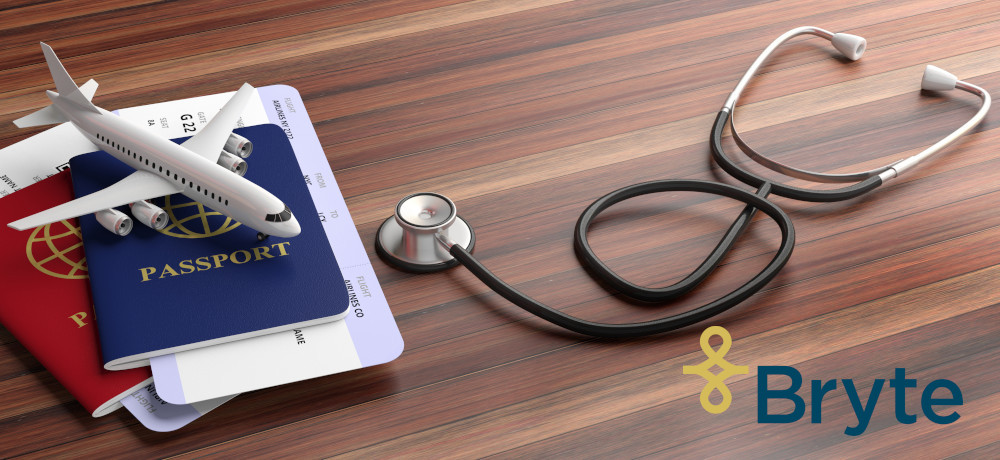 There are few things worse than receiving a midnight call from your client saying that their baggage is lost or that their holiday has to be extended due to unforeseen circumstances beyond their control. The only thing that could make a stressful situation like this worse is the realisation that your client has no travel insurance.
This is why it is so important to bring up the topic of travel insurance long before your client departs. So many travellers simply aren't aware of the risk they are taking or don't know that they can take out an additional travel insurance policy to reduce their risk exposure.
This is why Bryte Insurance is here to arm you with all the necessary information, from when to sell travel insurance to how to process a claim. There is no excuse for sending clients overseas without travel insurance.
Why is it important to have travel insurance?
Travel insurance offers cover for unforeseen events, from a cancelled flight to a serious illness – or in rare cases, even an act of terrorism or the financial default of a travel supplier. If an illness, accident, or other unforeseen circumstance forces a traveller to cancel or interrupt their travel plans, they face two potentially major financial losses – money invested in non-refundable pre-payments and medical expenses that may not be covered by health insurance. Travel insurance is important to ensure that any unforeseen events that happen while travelling do not result in financial ruin.
What is the rule of thumb when it comes to when travel insurance should be purchased by?
As soon as you have paid any money towards your travel booking (e.g. flights, accommodation, etc), you should invest in a travel insurance policy. At Bryte, you can purchase your cover up to 1 year in advance. Cancellation cover starts one day after you bought your travel insurance policy and you may claim for cancellation until such time that you board your public transport carrier for departure.
What does a comprehensive BRYTE travel insurance policy cover?
Our Premier plan includes cover up to R100 million for emergency medical and related expenses, as well as cover for pre-existing medical conditions and cover while taking part in sports, adventure sports and hazardous activities.
Other inconvenience benefits include cancellation cover, baggage theft or damage, travel delay, visa delay or rejection, cruise cover and air space closure. For the full schedule of benefits for these and all our other plans, please refer to our policy wording.
Do you offer coverage for domestic travellers?
Bryte does offer Local travel insurance when South African residents are travelling within the borders of South Africa. The cover includes cancellation cover, baggage theft or damage, car rental excess waiver, and cruise cover. For the full schedule of benefits for these and all our other plans, please refer to our policy wording.
Will BRYTE travel insurance policy holders be covered for injuries sustained whilst participating in sporting activities like skiing or surfing? Is there a particular policy better suited to these types of holidays?
We have a range of policies, some of which include cover while taking part in sports, adventure sports or other hazardous activities. These policies are the Premier, Jet Set, Island Hopper, Business, Group and Inbound plans. The emergency medical cover under these plans are reduced while taking part in these activities and details of cover, along with specific terms and conditions, can be found in our policy wording.
Is it possible for more vulnerable travellers such as pregnant, extremely young or elderly travellers to enjoy coverage while travelling internationally?
We have a wide range of policies to cater for the needs of travellers. Our cover is available to travellers from 3 months to 89 years old inclusive. We have plans that allow dependent children to share cover with their parents, as well as a Youth plan for young independent travellers. We have three senior plans available ranging in cover for travellers between the age of 70-79 years, 80-84 years and 85-89 years inclusive.
We do cover pregnant travellers up to 26 weeks for unexpected medical complications. We also make provision for travellers with pre-existing conditions and have an optional additional cardiac buy back option available to travellers between the ages of 70-79 years old. Terms and conditions for these and other benefits are set out in our policy wording.
If the client already has travel insurance through their credit card company, is it possible to top-up their coverage with a BRYTE policy?
Bryte is the official underwriter for the following banks and offers the automatic basic cover as well as top up options for Investec, Absa, Woolworths, Virgin Money, Nedbank, SAA Voyager, American Express and American Express Centurion. All automatic/complimentary and relevant top up plans can be issued via the Bryte issuance system. In addition to that, Bryte also offers a generic Top Up plan for the banks not mentioned above.
 Is it possible to extend a client's travel insurance policy should they extend their stay?
Clients can ask us to extend a policy by applying for an extension. You must apply for an extension at least 1 business day before the end date of the policy. We can change the terms and conditions, including premiums, benefit limits and exclusions of this policy at the time of the extension. Subject to the plan purchased, the extension cannot be in excess of a total insured journey period of 365 days.
How should our clients go about submitting a claim should one arise when they are still overseas?
In the event of a medical emergency you must immediately contact Bryte Travel Assist who are available 24 hours a day, 7 days a week at +1 416 642 2910. Our team of medical experts will assist you and ensure that you are directed to an appropriate medical facility. When we are made aware of your emergency, we will facilitate payment of the medical bills.
If you do not contact Bryte Travel Assist and arrange your own medical care, you need to contact Bryte Travel Assist at your earliest convenience so that they can be made aware of the emergency and communicate with the medical facility.
For any medical claims over R5,000 you must get our approval before you incur the costs. If you do not get this approval, your benefit might be limited to R5,000. Contact information for approval is +1 416 642 2910.
For all non-medical claims (for example, claims for baggage or cutting the insured journey short) and for medical claims for out of hospital treatment, you can contact us up to 30 days after you have returned to South Africa at 0860 222 446 or [email protected] to get a claim form faxed, posted or emailed to you. You must, at your own cost, give us all proof that we ask for about the insured event. Our claims department is open Monday to Friday between 08:00 and 16:30 (South African time).
Bryte is an authorised Financial Services Provider No.: 17703
TIP: Always include an insurance quotation in the travel quote that you present your client to show the cost thereof. Travellers are often under the impression that insurance will increase the cost of travel substantially and therefore choose to rather take the risk and not look into it.
As an agent you can earn 10% commission, which will be included in the quote, when you mail [email protected] with the FRAG number and confirmation email.